On Sunday, September 24, we will be participating in the Great Plains Race for the Cure (www.komengreatplains.org) to raise funds in the fight against cancer and to support and honor those among our family and friends who have battled the disease. The 5KRun/Walk starts at 9am at Falls Park in Sioux Falls and our worship service will follow at 12pm at our usual location 1600 W. 24th St., Sioux Falls SD 57105. Get out your racing shoes and join us!
On Sunday September 3, our family of churches is being asked to pitch-in to assist the work of HOPE worldwide. Hurricane Harvey displaced families, devastated homes, and temporarily halted any ability to earn a living. Some disciples in Houston have lost their homes and need our help. Together we can bring hope and make a difference but most importantly let our brothers and sisters know that we are with them. Please give generously and continue to pray for these communities in need. Checks can be made out to "HOPE worldwide" and sent to: HOPE worldwide, 4231 Balboa Ave, #330, San Diego CA 92117. Be sure to note that these donations are for "Hurricane Harvey Disaster Response." Members can also give online at hopeww.org or text "Respond" to 80077.
On the road again! On Sunday August 20, we are excited to visit and worship with our sister congregation, the Des Moines Church of Christ (www.desmoinescoc.org), at 625 South 35th Street, West Des Moines, Iowa 50265.
Road trip time! On Sunday July 30, we will be out of town to visit and worship with our sister congregation, the Chippewa Valley Church (www.chippewavalley.church), located at 1805 Goff Avenue, eau Claire, Wisconsin 54701.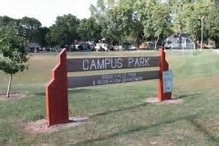 On Sunday July 9th, our 10am worship service will be outdoors at Campus Park located on the corner of W. 26th St. and S. Summit Ave. Hope to see you there!
Check back often for all our upcoming events!